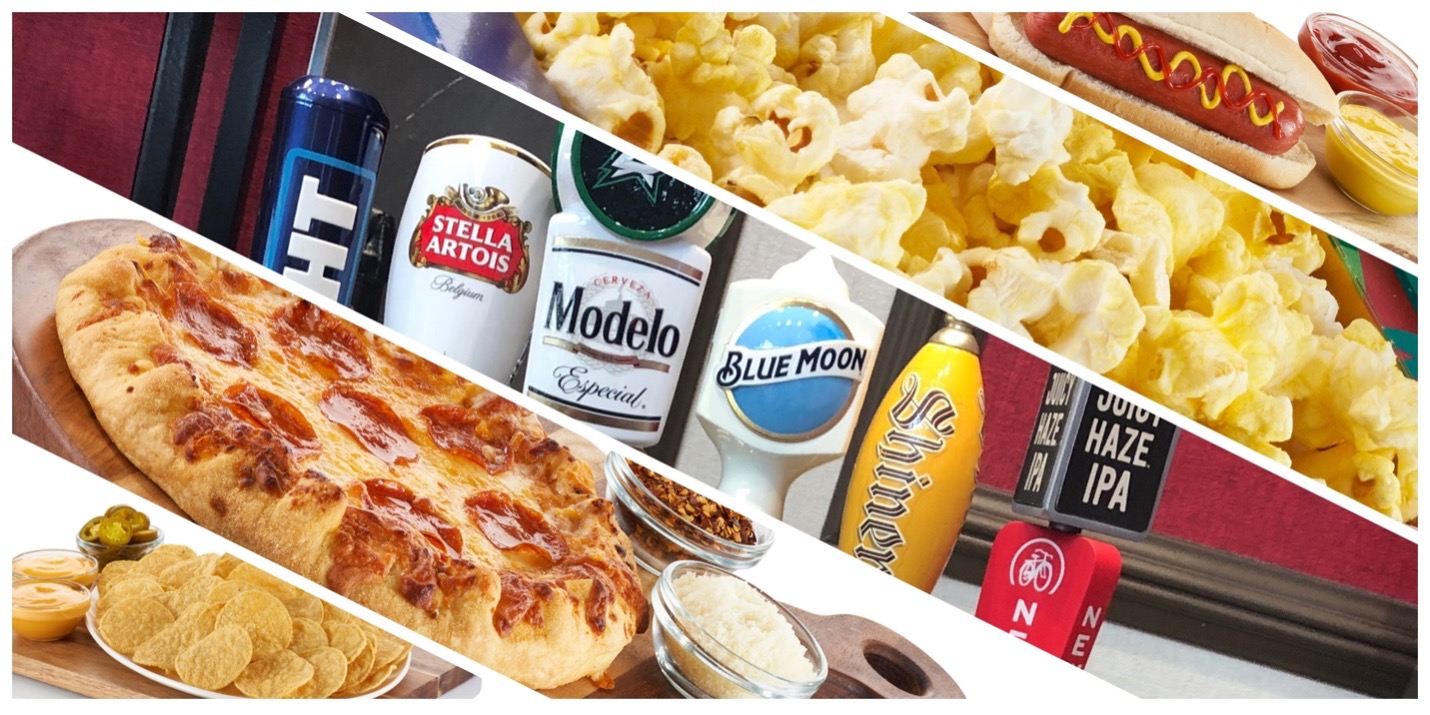 Wed, Sep 8 FIVE GALAXY THEATRES CONCESSIONS YOU MUST TRY
Half the fun of seeing a new movie in theatres is deciding what concession items you want to pair with your viewing! At Galaxy Theatres, we make sure to have a selection of movie theatre snacks that is just as diverse as our movie genres! So if you're seeing a thriller, rom-com, or animated feature, we've got popcorn buckets, rosé pours, sweet and sour candy, and more to pair perfectly with what you're seeing. We know our loyal Galaxy guests have their favorites they can't stray from, but if you're wondering what other tasty concessions await you, keep on reading and head to the theatre hungry and curious!
POPCORN
There's no denying that movie popcorn is essential to a theatre-going experience, but the movie popcorn at Galaxy Theatres is undeniable, so much so that we basically supplied our guests with plenty of stock to last them through 2020 and into 2021. That being said, you simply can't go on without trying this delectable classic! There's a reason we turn over kernels so quickly, and that's because our team members know the perfect balance of butter and salt. They also know how to make our iconic popcorn just as tasty without either if requested by guests! No matter what you're heading down to Galaxy to see, popcorn is ALWAYS the right choice to snag from concessions.
SPECIALTY BEVERAGES
We won't beat around the bush—being a movie theatre chain that serves alcoholic beverages is a pretty sweet perk! Date nights are more romantic, girls' night out and guys' night out are more anticipated, and sitting through your kids' favorite animated feature is a lot more pleasant. We're glad to have various beers on tap, wines for consideration, and the biggest crowd-pleaser: margaritas! We offer a unique promotion called Cinco De Drinko, where on the 5th of each month, guests can enjoy refreshing margaritas or thirst-quenching beers, depending on location. Whether you're in the mood for whatever's on tap, a glass of red or white, or a promotional margarita, at Galaxy, you can take your experience from good to great with a sip of a beverage!
NACHOS
We've been hearing from our local communities that our nachos always hit the spot! Thick, round tortilla chips, drizzled in warm nacho cheese, and topped with jalapeños is the order we seem to be taking frequently! This is a nice, hearty choice that compliments almost any movie. The jalapeños are a personal preference, but we can't deny most people almost always order a side for some heat. Whether you like it doused in nacho cheese or you prefer to dip the chip to form your perfect ratio, this concession item is one you simply must try next time you visit Galaxy Theatres!
PIZZA
Now here's an out of the box option! Pizza during your showing will take your visit to another level. This is the perfect treat to order in bulk for kids' birthday parties with friends and classmates, or it's great to pair with beer and wine for girls' night or boys' night out. Whether you're loyal to classic cheese or want to shake things up with some pepperoni, a pizza during your show time will be sure to set your mind at cheese–at ease!
PRETZELS
Knot kidding – you simply must try the pretzels! Depending on your Galaxy Theatres location, you can order pretzel bites or one large pretzel to enjoy during your show time! Perfectly salted, soft, and warm, this treat will elevate your next visit. Many guests like to pair their pretzels or bites with mustard, cheese, or other dips. You can't go wrong with this concession item, so let us know what you think!
Our selection of theatre treats is sure to please! We can't wait to know which becomes your new favorite.