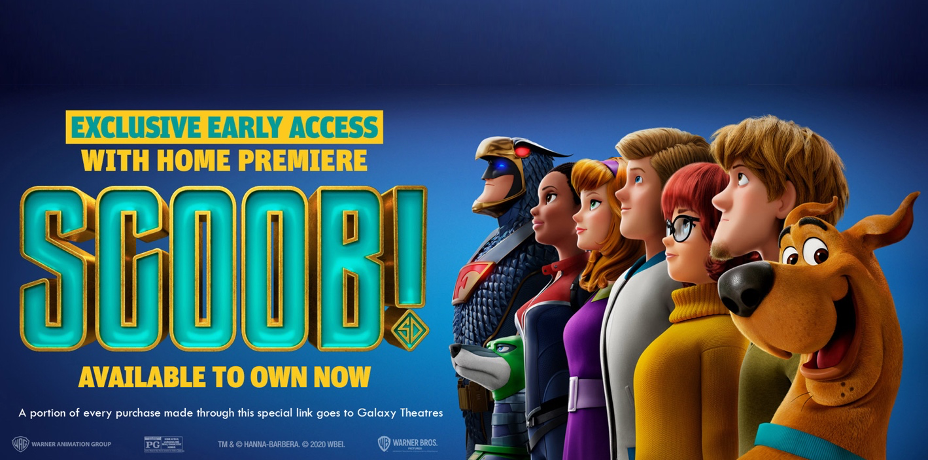 Thu, May 21 SCOOB!
We're so excited to bring SCOOB! to your home starting this weekend! The first full-length, animated Scooby-Doo adventure for the big screen is the never-before-told story of Scooby-Doo's origins and the greatest mystery in the career of Mystery Inc.
In the film, you'll learn the origin of Scooby-Doo and the rest of the mystery gang! SCOOB! reveals how lifelong friends Scooby and Shaggy first met and how they joined with young detectives Fred, Velma and Daphne to form the famous Mystery Inc. Now, with hundreds of cases solved and adventures shared, Scooby and the gang face their biggest, most challenging mystery ever: a plot to unleash the ghost dog Cerberus upon the world. As they race to stop this global "dogpocalypse," the gang discovers that Scooby has a secret legacy and an epic destiny greater than anyone imagined.
This film features a sensational cast, including Frank Welker as Scooby-Doo himself and Will Forte as Scooby-Doo's best friend, Shaggy! Fred and Daphne are voiced by Zac Efron and Amanda Seyfried, and Velma is voiced by Gina Rodriguez. Some of the supporting characters, such as Falcon Fury pilot, Dee Dee Skyes, Falcon Force's Dynomutt the Dog Wonder, and Captain Caveman are voiced by Kiersy Clemons, Ken Jeong, and Tracy Morgan respectively.
This animated mystery comedy will be so perfect for a family movie night! To elevate your watch party, bring the Galaxy movie theatre experience home with you by purchasing a popcorn from one of our participating theatre locations. We're excited to offer a tasty treat that is sure to make family and friends smile. Purchase your $25 5-gallon bag of popcorn and receive a complimentary $25 Galaxy Gift card for future use at any Galaxy Theatre! This offer is only available by online order and for curbside pick-up. To learn more about this exclusive Galaxy Theatres deal, visit our Popcorn Pick-Ups FAQs.
While we regret that SCOOB! can't be viewed on the big screen, we're happy to be bringing this film home to you with a video-on-demand link. We're even more thrilled to enhance your viewing experience with our famous premium blend of signature hot buttered popcorn! We can't wait to see what your movie night looks like. Tag us on social media using the hashtag #GalaxyScoobMovieNight.