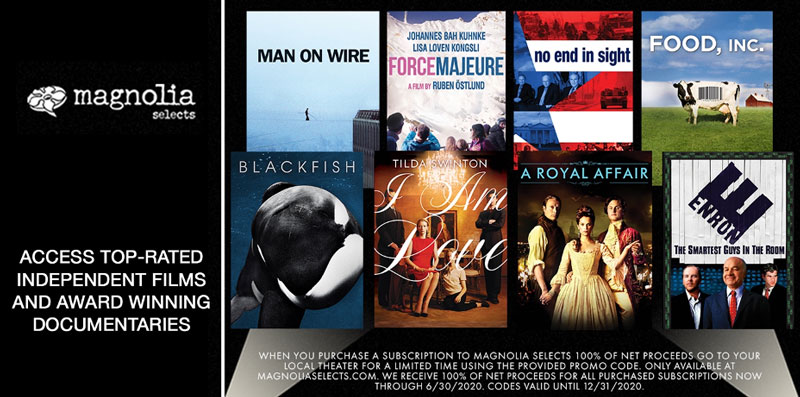 Fri, Apr 17 Galaxy Theatres Teams with Magnolia Selects
Running out of things to watch during this time spent at home? Galaxy Theatres has teamed up with streaming service, Magnolia Selects to provide a movie experience in the comfort of your own home. Brought to you by Magnolia Pictures and Spotlight Cinema Networks, Magnolia Selects offers a curated collection of films and television series that spans across all genres. From laugh-out-loud comedies, to adrenaline pumping thrillers, to award-winning documentaries, Magnolia Selects has a wide selection to choose from that appeals to everyone!
Some of the top Featured Films include: TWO LOVERS (2008) with Joaquin Phoenix and Gwyneth Paltrow, WORLD'S GREATEST DAD (2009) with Robin Williams, the music documentary THE WRECKING CREW (2008), I GIVE IT A YEAR (2013) with Rose Byrne and Anna Faris, THE FIRST MONDAY IN MAY (2016), TANGERINE (2015), the sports documentary VENUS AND SERENA (2012), HOBO WITH A SHOTGUN (2011), and TAKE THIS WALTZ (2011) with Michelle Williams and Seth Rogan.
In the Popular Picks category, you'll find films like DISTRICT B13 (2004), WE ARE THE BEST (2013), GONZO: THE LIFE AND WORK OF DR. HUNTER S. THOMPSON (2008), STAGE FRIGHT (2014), KILL ME THREE TIMES (2014), MAN ON WIRE (2008), ALL GOOD THINGS (2010), TUCKER & DALE VS. EVIL (2010), and so much more!
Start your exciting, new streaming experience by signing up for Magnolia Selects today. Through a seamless sign-up process, you'll be watching movies in no time! We have outlined the process below:
Step 1: Go to the Magnolia Selects website where two options will be presented: Try Free For 7 Days or Login. All new subscribers are granted the free 7-day trial! Submit the following information to create your account: First name, last name, email, and password.
Step 2: Select from two different payment plans: Annual (a one-time payment of $49.99) or monthly payments of $4.99. Continue on by inputting your credit card information to complete the account setup. You will not be charged until the 7-day free period has ended.
Step 3: The following screen will ask for a Promo Code for Galaxy Theaters which is MOVIE138. This promo code is extremely important because it will help Magnolia Selects know that you are a part of the Galaxy Theatres family! When the promo code is entered and the theatre is identified, 100% of net proceeds will go directly to our theatre through 6/30/2020.
Step 4: You are all ready to go! A screen will appear showing you all the different titles you can choose from. Happy streaming!
Magnolia Selects represents some of the very best in entertainment. With your help, we can keep cinema vibrant in our community. Take this opportunity and start streaming today!