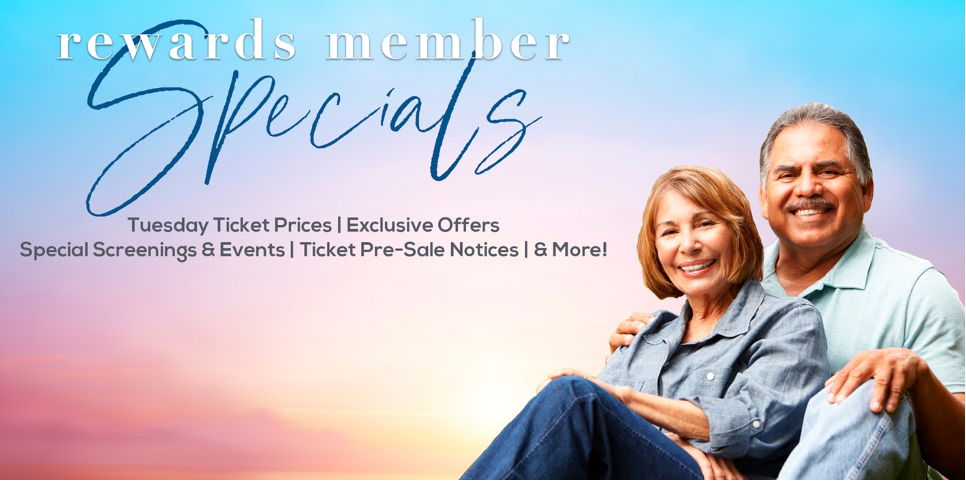 Thu, Jul 16 GALAXY REWARDS
Some incredible movies are debuting on the big screen in the coming months, and you'll get the most out of these films as a Galaxy Theatres Rewards Member! Your exclusive Rewards Program grants you access to special offers and perks that you simply can't miss. Since it's been a while, you might have forgotten all the valuable benefits of being a Rewards Member. If you need a refresher on all the advantages of your Galaxy Theatres Rewards Program, we've got you covered!
One of our most exciting deals is a points system that rewards you for each purchase you make! Every adult evening ticket earns 10 points, while other admission tickets earn 5 points, and each dollar towards concessions earns 1 point. You can save up these points and redeem them for tasty concessions or tickets to the latest films, such as MULAN or TENET!
Every week take advantage of promotional pricing during Ticket Tuesday. Please note that pricing varies by theatre location and is not available at all locations. In addition to Ticket Tuesdays, the Rewards Program grants access to screenings, ticket pre-sales, and more!
Here's some additional important information for Rewards Members who will be joining us at the theatre again soon:
Happy Belated Birthday! – If you enjoyed a birthday while your Galaxy Theatres location was temporarily closed, we still want to celebrate you! Keep an eye out in the weeks following our anticipated reopening as you will be receiving a complimentary birthday movie ticket, and more details will be available closer to reopening.
Points Don't Expire – That's right! The points you already earned are waiting for you once you come back to the theatres. Start thinking about which sweet treat or movie ticket you'll redeem them for.
Specials – Because you're a Rewards Member, you can take advantage of all the special perks, such as Ticket Tuesdays, exclusive offers, invitations to special screenings and events, ticket pre-sale notices, and other promotional offers!
If you're not a Rewards Member yet, you can still sign up while we prepare your reopening by going to our Loyalty Sign-Up Page. You won't want to miss out on these incredible deals, which can bring your unique viewing experience to a whole new level. And it costs nothing to join!!
At Galaxy Theatres, Rewards Members are a top priority. To thank you for your loyalty, exclusive opportunities can all be yours in order to make your frequent visits as rewarding, fun, and comfortable as possible. Thank you for choosing Galaxy Theatres!