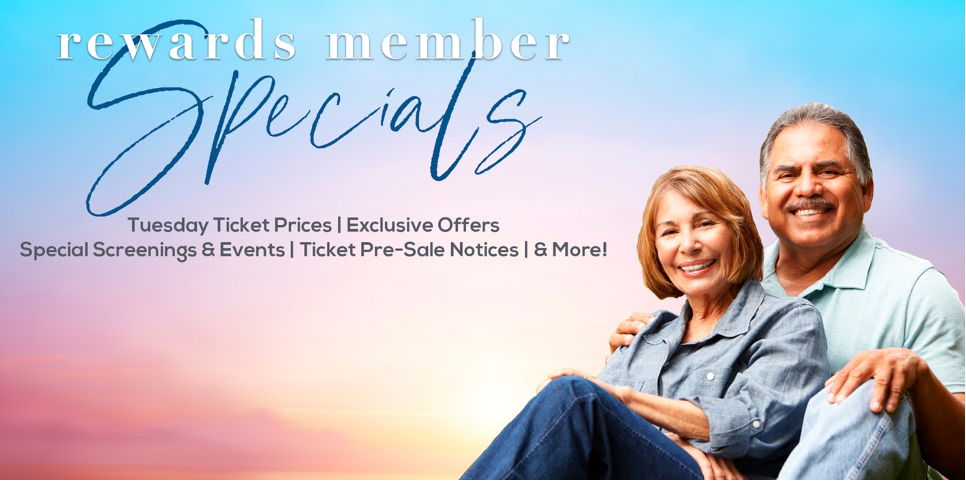 Wed, Dec 9 REWARDS PROGRAM
Wait, you're not a member of the Galaxy Theatres Rewards Program yet?! That must mean you either haven't heard of it or you're unclear on just how incredibly awesome this program is! We want to ensure every member of this wonderful Galaxy Community is aware of our exciting Rewards Program.
This unique program rewards members of the Galaxy Community each time they visit any one of our 16 theatre locations. All you have to do is take a few minutes to sign up for a completely free account and then continue being the loyal Galaxy guest you already are! The best part is that you get to determine your own rewards experience. The more you visit Galaxy Theatres and indulge in delicious concession treats, the more exclusive rewards you'll have access to. Sign up for our free program today and get started earning points right away!
POINTS
You already spend quality time at Galaxy Theatres with your loved ones seeing movies. You might as well reap the benefits that come along with that. Rewards Members are awarded points for any ticket and concession purchase within 48 hours after any given transaction. You earn 10 points for every adult evening ticket, 5 points for all other tickets, and 1 point for every dollar spent on yummy concession items.
You'll definitely want to join the program in time to see WONDER WOMAN 1984 in order to get rewarded for your ticket and concession purchases. Plus, if you see WONDER WOMAN 1984 in a specialty format like IMAX or D-BOX, you'll be rewarded even more points and you'll be well on your way to the redemption stage.
BENEFITS
Being a Rewards Program member at Galaxy opens you up to a variety of benefits and opportunities. While you'll always have the option to redeem your points, that is only part of the Galaxy program. The benefits typically include exclusive offers, communications, invitations, special screenings and events, ticket pre-sales, and other promotional offers and discounts on standard format movie tickets, 3D, DFX, or VIP admission tickets, and free or special priced concession items! If Galaxy is offering a special promotion, whether it be a deal on concession snacks or promotional ticket prices, being a part of the program ensures you'll be among the first to know and get access to it!
REDEEM
Here's where your points come into play! For 100 points, guests may get a free concession item up to $5.00 or $5.00 off a higher price item (excluding alcohol). Why not try something new!? Give the pretzel bites a try if you haven't already, they never disappoint!
For 150 points, guests may receive one standard format movie ticket (excluding special formats). This reward is a great way to catch two movies for the price of one over any given weekday or weekend! Now, if you're a saver, for 200 points, guests can redeem a special film format movie ticket such as 3D, DFX, or a VIP admission ticket (excluding D-BOX and IMAX). Saving up your points is a great way to get the full Galaxy experience with the variety of incredible film formats we're proud to offer.
You'll never have to worry about rushing to take advantage of your rewards because these points never expire! You can start planning which concession snack or movie ticket you'll redeem with your points without worrying about obnoxious expiration dates.
Just think of all the movies you've seen and delicious treats you've enjoyed at Galaxy Theatres. You'd probably have a good number of points by now. Don't miss out on another point, sign up today! We can't wait to see you racking up points and enjoying the exclusive benefits of your epic Galaxy Theatres movie-going experience!