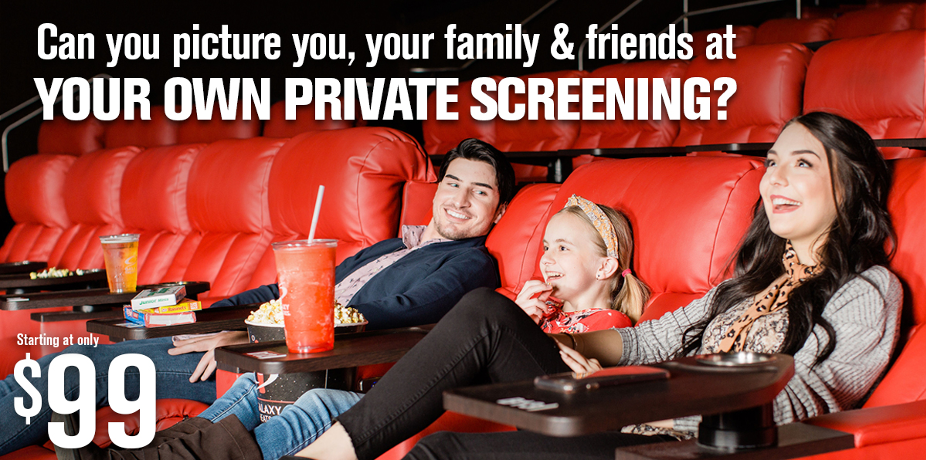 Tue, Sep 8 YOUR PRIVATE SCREENING AWAITS AT GALAXY THEATRES!
With Galaxy Theatres locations reopened in Texas, Nevada, and Arizona, there is no better time than now to book your very own personal auditorium. A Private Screening allows you to invite up to 19 of your closest friends and family, enjoy with a date, or just have the entire space all to yourself. Spread out and enjoy the premium movie-going experience you've grown to love and have missed. Experience the massive, incomparable screen and comfortable seating while enjoying popcorn, nachos, pretzels, specialty drinks, and other delectable treats.
INTIMATE ENTERTAINMENT
Reserving your own private auditorium may be the perfect way to return to the movies in 2020! Providing a more personalized intimate experience with those you care for and want to share time with, while creating new long-lasting memories, is what life is all about. Laugh, cry, and marvel alongside the people you love most, while massively upscaling your experience from your home theatre. A Private Screening is sure to boost you into the nostalgic, immersive way to watch what you've been missing all year.
HOST A CELEBRATION
Not only is a private screening a deluxe form of entertainment, it's also an incredible way to celebrate. Use your auditorium to host a fun birthday, special anniversary, holiday party, retirement, or back-to-school treat for the family! Unwind in the privacy of your own auditorium while making someone you love feel special!
HOW TO RESERVE YOUR PRIVATE SCREENING
You can reserve a private Galaxy Theatres auditorium for up to 20 people. Galaxy Theatres offers a variety of classic films for $99 and you can reserve a brand-new film releasing on the big screen for $150! With such a great selection of films releasing this year, you won't want to pass on an opportunity like this! This inviting and intimate gathering style will offer fun and create memories for your whole group!
Check with us to learn the list of available movies. Reservations can be made up until 24-hours ahead of your desired time slot. If something comes up, cancel no less than 24-hours before your event. Please note for R-rated films, guests must be 17 years old or accompanied by a guardian. Upon arrival, please bring your email confirmation to gain entry.
Get back to the big-screen with family and friends by reserving a private auditorium at your Galaxy Theatres location today!