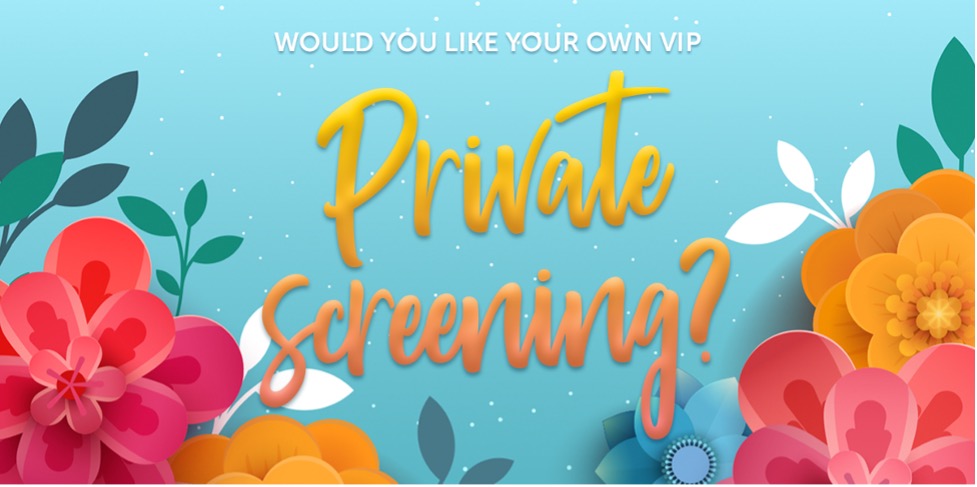 Fri, Apr 9 ENJOY A PRIVATE SCREENING AT GALAXY THEATRES THIS SPRING
Spring is the perfect time to give yourself a boost of energy, and what better way to do so than with a private screening at Galaxy Theatres. It's easy to get distracted by the day-to-day responsibilities that take over our lives, so it's important to carve out a little "you" time this Spring! The season is already looking a lot brighter this year with movie theatres being allowed to open back up and new must-watch movies such as GODZILLA VS. KONG releasing in theatres and exceeding box office expectations.
If you're looking to celebrate a Spring birthday or you're simply looking to find a place to relax and unwind, then Galaxy Theatres is the perfect place for you. Our 16 Galaxy Theatres locations all offer customizable movie-going experiences when you rent out a private screening! If you're not looking for any customizations and just hoping to catch a current film on the big screen without any other occupants, our general private screening opportunities are also great to consider!
The best part is that whether you're looking for a general or custom private screening, there are plenty of new films debuting this Spring that you, your friends, and your family can safely and comfortably view on the big screen. New films start at $199 for up to 20 people and would include films like GODZILLA VS. KONG, VOYAGERS, MORTAL KOMBAT, and CRUELLA which would all make ideal entertainment options. For classics that we often feature on the big screen through our Flashback Cinema Program, private screening packages start at $99, and currently include films such as THE LORD OF THE RINGS series and the current line-up of Flashback Cinema films!
If you and your crew are film fanatics and love all the classics, then gear up for the Flashback Cinema Program this Spring. The line-up features some seriously epic films that you won't want to miss on the big screen! For example, classics include GONE WITH THE WIND, CITIZEN KANE, THE WIZARD OF OZ, TREMORS, THE DARK KNIGHT, TRADING PLACES, GREASE, and more! For just $99, you can host your own private watch party with a group of up to 20 people! Alternatively, if you own a favorite DVD/Blu-Ray that you're just dying to see on the big screen, then you can simply bring in your own film to view it in theatres!
Privately renting out your own movie theatre is an elevated entertainment opportunity that every moviegoer should experience! Galaxy Theatres features top of the line sound systems, crystal clear, lifelike images, and comfortable seats that will easily immerse you into the cinematic world you're enjoying. Through private screenings, you don't have to worry about other patrons coming in during your film or any other distractions. Private screenings are truly an enjoyable and memorable experience that is perfect for you and all your favorite movie partners! You won't regret utilizing an opportunity like this to elevate your Spring!  
Be sure to share your private screening experience by tagging us on Facebook, Instagram, and Twitter. We hope you have a wonderful Spring and can't wait to see you at Galaxy Theatres soon!