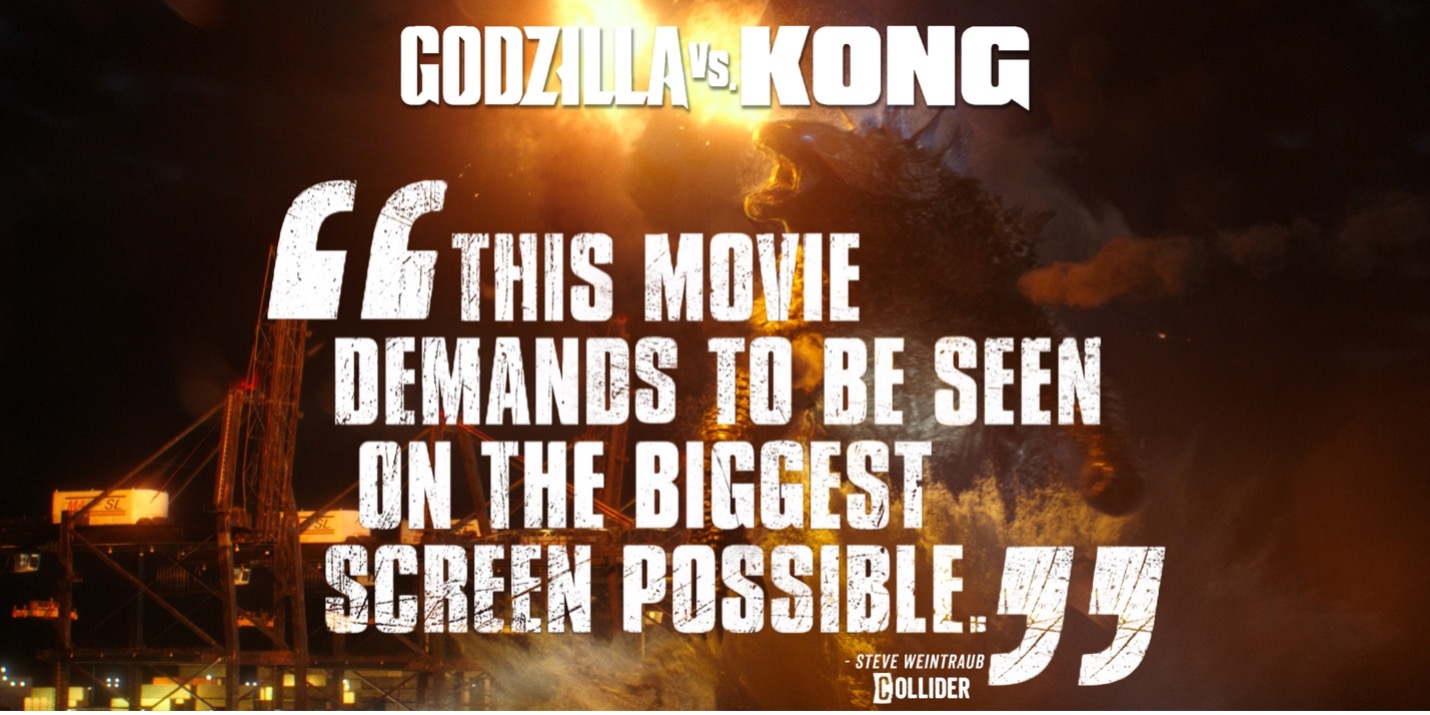 Wed, Mar 31 TOP 5 REASONS TO SEE GODZILLA VS KONG AT GALAXY THEATRES
The wait is finally over. GODZILLA VS. KONG is now playing on the big screen, and the perfect place to watch this thriller unfold is at Galaxy Theatres. Now that all 16 Galaxy Theatres locations have reopened for general admission, this is the ultimate film to welcome you back to theatres! In fact, Screen Rant reports that GODZILLA VS. KONG is, "one of the biggest blockbusters to hit theatres in over a year," which means there is no better place to watch this showdown take place than in the home of a first-class entertainment experience.
If you're still not sold on why you must watch two of the biggest players fight to the finish on the big screen instead of your home TV, then here are the top 5 reasons to see GODZILLA VS. KONG at Galaxy Theatres!
NOTHING BEATS THE BIG SCREEN EXPERIENCE
GODZILLA VS. KONG is undeniably mind-blowing in the standard film format. However, Screen Rant reports that the film's fight scenes are, "engaging and visually stunning," which means watching the film in one of Galaxy Theatres' elevated film formats will make your viewing much more astonishing. Various Galaxy Theatres locations offer moviegoers dynamic experiences such as IMAX, DFX, D-BOX, and Sony Digital Cinema. These next-level film formats are filled with the best technology that helps take viewers from simply watching to actually experiencing. Viewing this thriller on one of Galaxy Theatres' big screens will take your GODZILLA VS. KONG experience from great to grand.
CONCESSION COMPANIONS
Snacking only further elevates the big screen experience! The heated fight scenes in this film are bound to have viewers filled with edge-of-your-seat excitement. You can quench your thirst for the action with an assortment of #GalaxyGoodies, including sweet and savory treats, hearty snacks, various beverages, and more! Pro-tip: head to the theatre early to bypass concession lines and grab your concessions in advance so you don't have to miss a moment of this film's epic action.
ULTIMATE COMFORT AND SAFETY
At Galaxy Theatres, we want moviegoers to have an exceptional time, which is why every second of your theatre experience from initial entry through the lobby to individual auditoriums are distinctively crafted with comfort, safety, and accessibility. The majority of theatres are equipped with reclining, leather seats to help you reach maximum comfort. Not only will your seat have you instantly activating relaxation mode, but your seat is paired with adjustable dining trays to make snacking effortless. We not only prioritize the quality of your auditorium and viewing experience, but we ensure that your theatre's overall sanitization is paramount and in accordance with the Health and Safety Guidelines. Our theatres' CinemaSafe-certified hospitality teams are advanced in ensuring that your theatre is consistently a place of safety and sanitization. This is why Galaxy Theatres makes for the perfect place to sit back, relax, and safely enjoy the thrills of GODZILLA VS. KONG.
SUPPORTING MOVIE THEATRES
This past year has undoubtedly been a challenge for the entire industry. By electing to watch incredible movies such as GODZILLA VS. KONG in theatres rather than through streaming services, you help keep the magic of the big screen entertainment experience alive. Supporting the movie theatre industry ensures that future epic movies and immersive movie experiences will continue to be released in theatres time and time again!
MEMORY-MAKING WITH FRIENDS AND FAMILY
There's no greater sensation than endlessly chatting away with your loved ones about the movie you just watched together. Galaxy Theatres offers a fun and safe space where friends and family can come together and eat, drink, relax, and create unforgettable memories. The theatres also have a magical way of bringing a sense of unity, as friends, family members, and strangers can all laugh, cry, and/or scream together as you all take in the same movie. Galaxy Theatres truly is a home away from home for many guests, and it makes movie-watching that much more special and unforgettable.  
GODZILLA VS. KONG is one of those epic films that was crafted specifically to be viewed in an immersive and thrilling environment. That's why seeing it on the big screen at Galaxy Theatres will elevate your experience to the next level. With GODZILLA VS. KONG now playing on the big screen, we hope to see you soon!