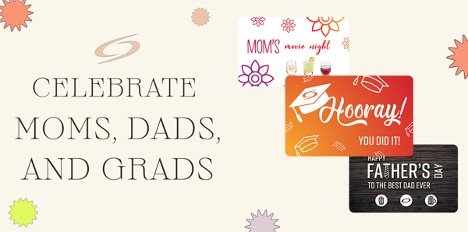 Mon, Apr 26 TIME TO CELEBRATE MOMS, DADS, AND GRADS AT GALAXY THEATRES
This time of year is all about celebrating moms, dads, and grads! May and June are fun-filled months with exciting events such as Mother's Day on May 9, Father's Day on June 20, and various dates celebrating graduations over the next two months.
Let those celebrating know you love them by giving them the gift of Galaxy! Avoid the stresses of searching far and wide for a gift when the perfect gift is right at your fingertips. You can effortlessly purchase a gift card to Galaxy Theatres on your computer or mobile device. You'll be giving the gift of a first-class entertainment experience! For all 16 Galaxy Theatres locations, you can purchase celebratory-themed e-Gift Cards which can be sent to anyone via email, making gift-giving not only easy, but super exciting!
THE GIFT OF GALAXY IS THE ULTIMATE GIFT
At Galaxy Theatres, we pride ourselves on creating an environment for you that is so inclusive that friends and families love to celebrate their most joyous occasions with us! We also love that your theatre allows you to relax, unwind, and enjoy the ultimate entertainment experience. The quality of your theatre experience is continuously elevated by your top-notch team members, your savory and delicious concession items, and your top-of-the-line theatre technology that makes giving the gift of Galaxy that much more remarkable. 
GALAXY THEATRES HAS EVERYONE COVERED
Galaxy Theatres is not only the perfect place for film fanatics to be themselves, but it's also a great spot for those looking for something fun and relaxing to do outside of their homes. Your theatre is the perfect outing to take your friends and family! With an array of movie genres, there's always a movie for everyone to enjoy on the big screen. Furthermore, your theatres offer a wide variety of film formats including DFX, D-BOX, IMAX, and Sony Digital Cinema, which are guaranteed to take viewers' movie-watching experiences to the next level.
TREATS, SWEETS, AND DRINKS
But wait, there's more! Whether the visit to your theatre calls for sugary sweets, salty and savory treats, or alcoholic or non-alcoholic beverages, your concessions options are limitless! Those who give the gift of Galaxy are gifting an array of tasty movie snacks that guests get to choose from. Whether it's a pretzel with cheese, salty popcorn, or a thirst-quenching margarita or ICEE, you'll be making your present to them that much sweeter!
MEMORABLE AND MEANINGFUL
Giving the gift of Galaxy is not only a luxurious experience, but an incredibly meaningful one as there truly is no better way of letting someone you care about know you think so highly of them! This is an experience that they'll always cherish and want to duplicate time and time again. Whether they'll use their gift card for a family outing, a self-care day, a romantic date, or anything in between, their theatre experience will provide a perfect opportunity to celebrate and to be celebrated.
Galaxy Theatres is excited for the cheerful celebrations that are to come within these next couple months! We can't wait to see how precious quality time and unforgettable celebrations look like at the theatres. Hope to see all you moms, dads, and grads celebrating the glee of the season at Galaxy Theatres!