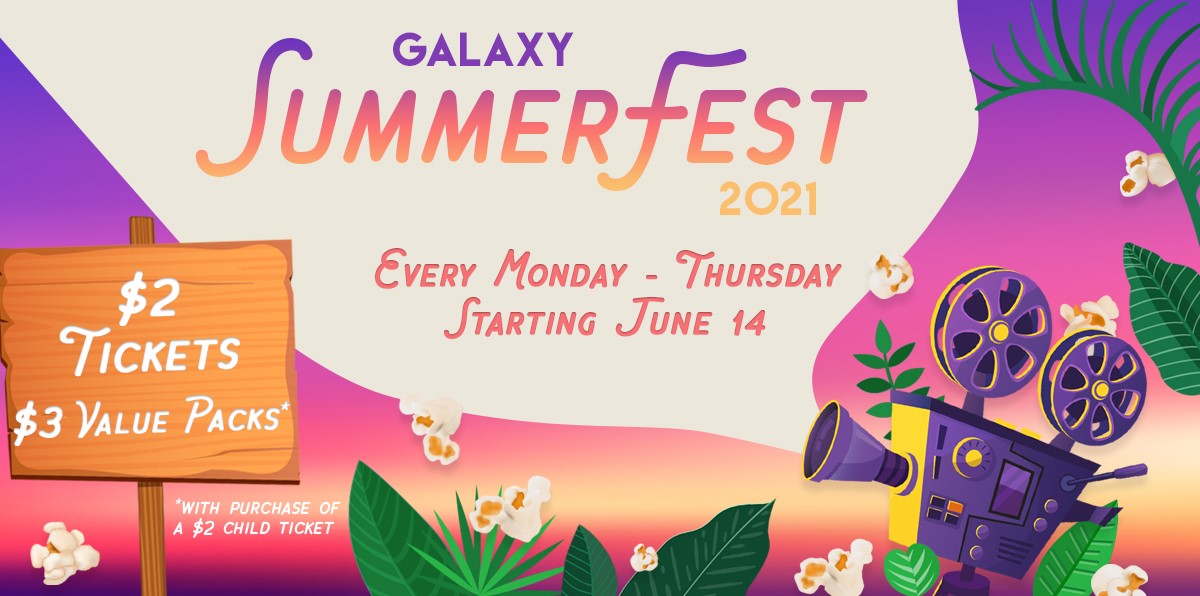 Thu, Jun 10 GALAXY THEATRES SUMMER KIDS PROGRAM
The Kids Summerfest Program at Galaxy Theatres is finally back! Not only are we showing some of the best animated films perfect for families, but they will be playing at all 16 Galaxy Theatres locations. Each movie will be played for four days from Monday through Thursday, and the entire program will run from June 14 to August 19. Make sure to check out our website for show times and to purchase your tickets in advance. We're so excited to welcome you back to enjoy these films on the big screen all summer long! 
The month of June will feature some of our favorite classics we can't wait for you to enjoy! Join us for THE ANGRY BIRDS MOVIE 2 (2019), SMURFS THE LOST VILLAGE (2017), and CLOUDY WITH A CHANCE OF MEATBALLS (2009). Come experience these epic kids films on the big screen to create new special memories for your family or reminisce on your all-time favorite childhood classics. You don't want to miss out on seeing these adventure filled movies at Galaxy Theatres this June. 
During the month of July, we will be playing SPIDERMAN: INTO THE SPIDER-VERSE (2018), THE EMOJI MOVIE (2017), SCOOB! (2020), and SMALLFOOT (2018). These relatively newer films will leave your kids smiling from ear to ear. Embark on some brave journeys with your favorite fictional characters! You won't regret witnessing these films on the big screen with your loved ones this July! 
August will feature some incredible fan favorite films, including THE IRON GIANT (1999), PADDINGTON 2 (2018), and STORKS (2016). From giant aliens to loving bears and sneaky birds, we will take off on epic quests as we watch these journeys play out on the big screen this August. These adventurous films are the perfect way to have one last family outing before the kids head back to school. Celebrate the end of summer the right way at the Galaxy Theatres Kids Summerfest! 
Tickets for this program will be $2 each! We will also be offering a $3 value pack (with the purchase of a $2 ticket) that comes with popcorn, a drink, and candy. Sit back and relax in your comfortable chair with a variety of snacks to choose from and enjoy your favorite family-friendly animated films on the big screen this summer. Our clean, comfortable theatres with friendly guest services will make your Galaxy Theatres movie experience unforgettable. We're thrilled to have all the kiddos in our Galaxy Community back for the Kids Summerfest Program! Check out our website to buy your tickets today!