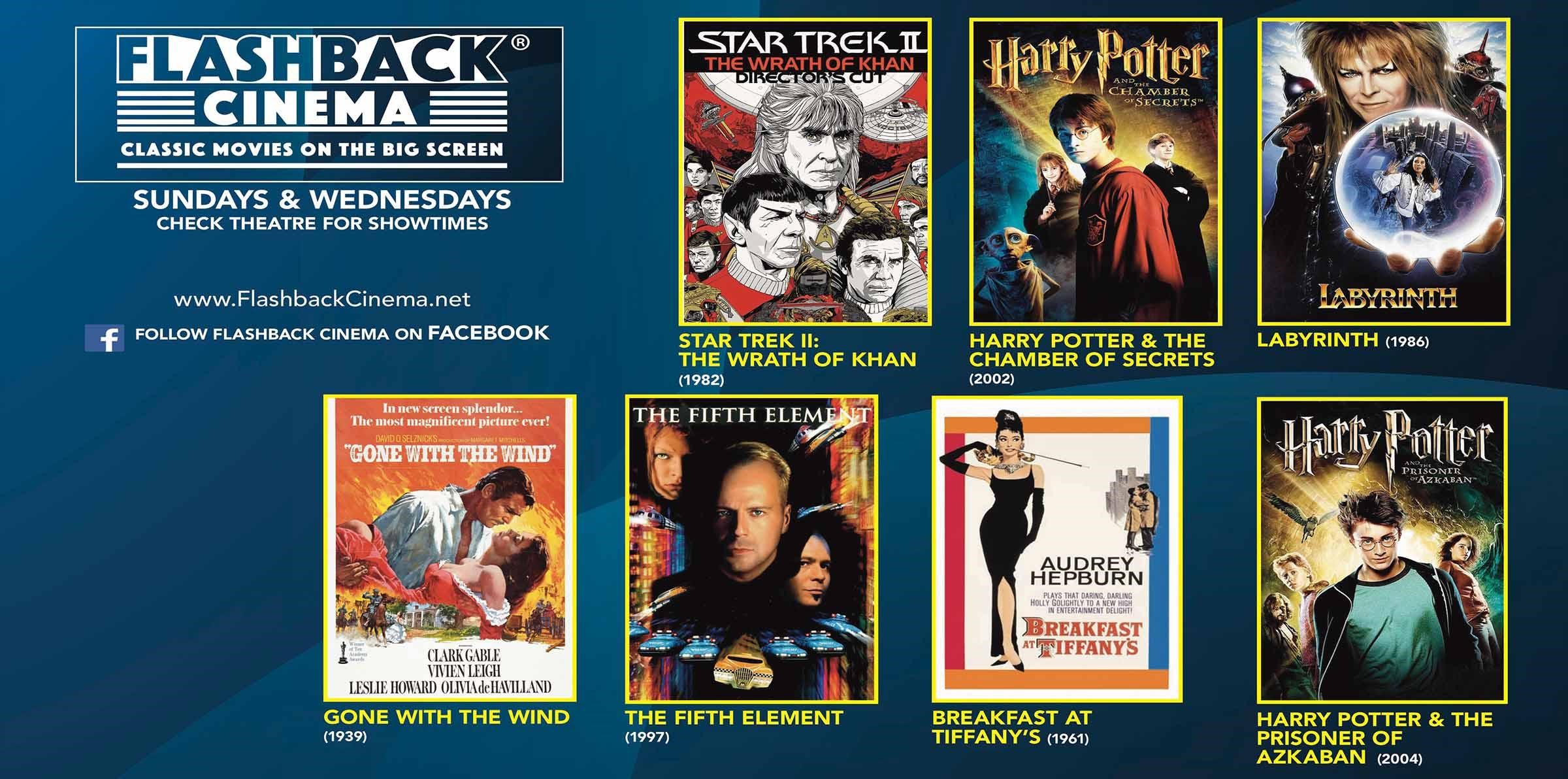 Thu, Jan 13 GALAXY THEATRES FLASHBACK CINEMA PROGRAM JANUARY & FEBRUARY
The array of classic films just keeps coming in 2022 as our Flashback Cinema program continues into the new year! Galaxy Theatres is proud to present these films on the big screen in the months of January and February for your viewing pleasure. Mark your calendars, we can't wait to see you!
STAR TREK II: THE WRATH OF KHAN (1982)
Calling all Trekkies! This 4K digitally restored director's cut brings back William Shatner as Captain James T. Kirk against the legendary Ricardo Montalban as the villain, Khan. Join the Enterprise when Flashback Cinema returns on January 9th and 12th at Galaxy Theatres.
HARRY POTTER AND THE CHAMBER OF SECRETS (2002)
Someone has opened the Chamber of Secrets at Hogwarts! Follow Harry Potter (Daniel Radcliffe) and friends in the second installment of the series as they navigate year two at the school of witchcraft and wizardry. Meet Dobby the Elf, The Whomping Willow, and Tom Riddle in this adventurous coming of age story playing at Galaxy January 16th and 19th.
LABYRINTH (1986)
A cult classic is coming to a theatre near you with Jim Henson's musical fantasy. Enter the mythical world on a wild rescue mission with Jennifer Connelly as Sarah and David Bowie as the Goblin King. Sing along to Bowie's soundtrack of five original songs on January 23rd and 26th.
GONE WITH THE WIND (1939)
Ten time Oscar winner, this epic love story set against the backdrop of the Civil War is making an appearance on our list of upcoming films. Watch in awe as a carefree southern belle transforms into a determined heroine with Scarlett O'Hara and Rhett Butler. If you've never seen it before, now's your chance - January 30th and February 2nd!
THE FIFTH ELEMENT (1997)
Bruce Willis is at his tough-guy best in this 4K Digital restoration of a science fiction adventure. Can this futuristic cab driver save Earth from destruction with a young woman who seeks his help? Witness the visually stunning cinematic adventure in early February on the 6th and 9th.
BREAKFAST AT TIFFANY'S (1961)
The Academy Award winning New York romantic comedy we all know and love puts star Audrey Hepburn back on the silver screen February 13th and 16th. Grab your gal pals for a light-hearted ladies night surrounding Valentine's Day at Galaxy Theatres with popcorn and fashion for the ages.
 
HARRY POTTER AND THE PRISONER OF AZKABAN (2004)
We solemnly swear that this film is SO GOOD. Beginning the third year at Hogwarts, a murderous prisoner Sirius Black (Gary Oldman) is on the loose and everyone in the wizarding world is on edge. Harry must utilize a magical map to find his way to what's right. Visit us February 20th and 23rd.