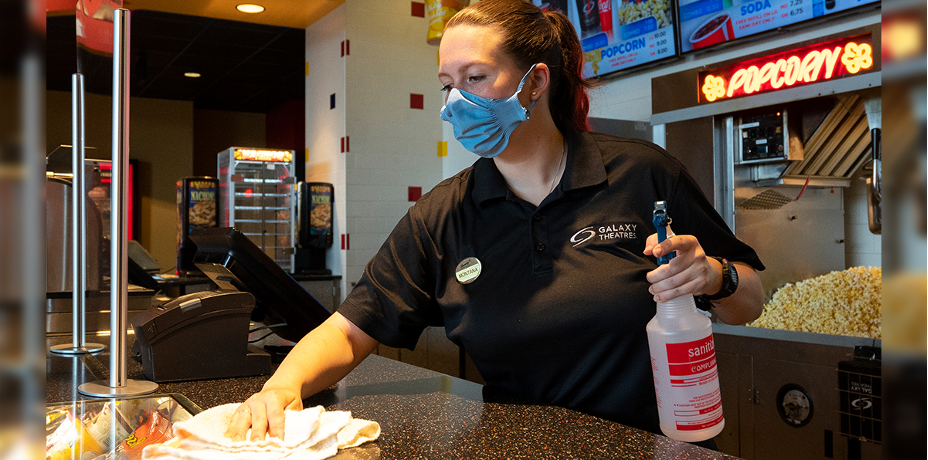 Wed, Nov 4 COULD YOU USE A BREAK RIGHT ABOUT NOW?
Could you use a break right about now? Movie lovers all over the country are getting back to the movies. Your local Galaxy Theatres is a CinemaSafe theatre that is so appreciative to have its beloved moviegoers back in their comfy recliners. Forget about the things that bring you stress and let Galaxy do the rest. Here at your favorite local movie theatre, we are working our hardest to provide an incredible and safe movie-going experience for you.
FORGET THE STRESS
As you walk through the tall movie theatre doors and the aroma of fresh popcorn surrounds you, your stress will melt away! For a couple of hours, you can escape for a well-deserved break. As guests have started returning to Galaxy Theatres, we've heard nothing but joy and excitement. Families are ecstatic to get out of the house for some safe family fun. Similarly, couples are enthusiastically returning to Galaxy for actual date nights again.
You can safely get a taste of normalcy, comfort, and excitement all in one place. We have seen many happy guests return and want to encourage you to do the same. You deserve to treat yourself and we are here to help you do so safely. Of course, if you are still weary or not ready to return quite yet, we understand and respect your concerns. Perhaps a private screening might interest you in the meantime. Regardless, we can't wait to welcome you back as soon as you're ready!
PRIORITIZING SAFETY
Your health and safety are Galaxy's top priorities. Galaxy Theatres is a CinemaSafe theatre, and we are taking all necessary precautions to keep you and your loved ones safe while you spend time at our theatre. Rest assured knowing that you're sitting in consistently sanitized seats, distanced from those outside of your movie-going group, and supporting your local movie theatre as we get through these trying times together. All we ask is that you wear a mask while you relax and let Galaxy take care of the rest. We appreciate your trust in us to keep you safe and thank you for working with us in order to do so.
Come join Galaxy for safe fun with loved ones, we can't wait to see you!