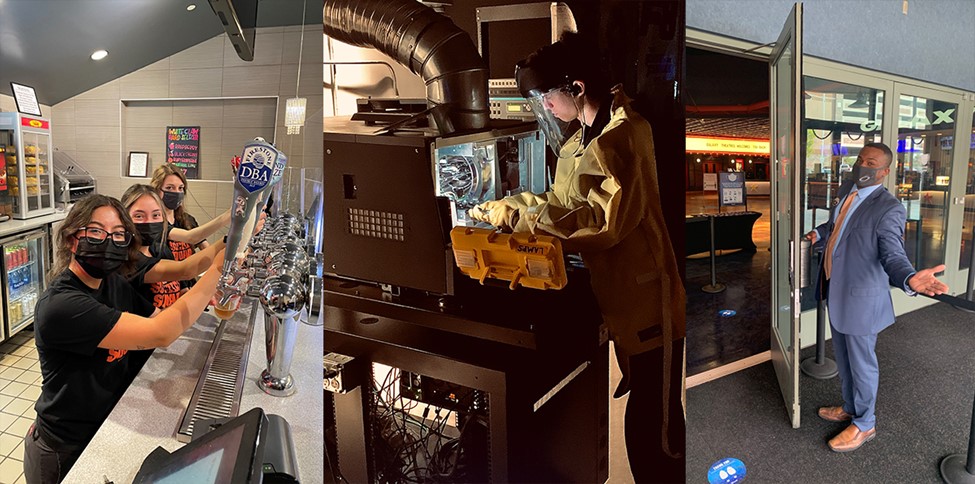 Thu, Aug 11 BEHIND THE SCREEN: CRAFTING THE GALAXY EXPERIENCE
In the era of superheroes, we're geeking out over our amazing Galaxy Theatres staff, spread across several states. They're the ones who truly bring the Galaxy experience to life! Let's pull back the curtain and talk all things employee appreciation: how does this super crew keep our theatres running smoothly? 
PROJECTION ROOM
You may think projectionists are a thing of the pre-digital past, but we still have dedicated team members above each auditorium in our Projection Room. Rolling films still requires knowledge of the sound and lighting manual adjustments, ensuring the highest level of picture and audio quality for our guests to enjoy. We're always grateful for those who make it all possible!
GALAXY GOODIES
Our recipe for success includes a team of concessions connoisseurs! These foodies have perfected their popcorn packing skills (with butter in the middle, of course!) Try a little of everything with our Value Pack which includes popcorn, candy, and a small fountain drink. A crowd pleaser from those 2 to 92! Our snacks are served up with a smile from a friendly face.
They're great with suggestions too! Looking for something more sophisticated? Sip on one of our silky new wines or a specialty cocktail at select locations.
CLEANUP CREW
We do our absolute best to keep auditoriums tidy between showings. After the credits roll, a cleanup crew resets auditoriums for the next joyful crowd of moviegoers. If there's ever a restroom or hallway in need of a quick refresh, please never hesitate to let a member of our team know.
MANAGEMENT & MOVIE LOVERS
We're here for you. The skills we look for in managers are meant to make guests feel understood, valued, and comfortable. They're the friendly folks who help us plan fun events, theatre upgrades, and private screenings. If ever an unfortunate issue arises during your visit, make sure to let a manger on duty know.
The bottom line is, our team loves movies just as much as you! We strive to take care of our guests like family and treat our theatre like home. Working here is more than just a job, but a memory in the making for each and every person who enters one of our 15 Galaxy locations. Looking for open positions near you? Ask how you can join our team today!