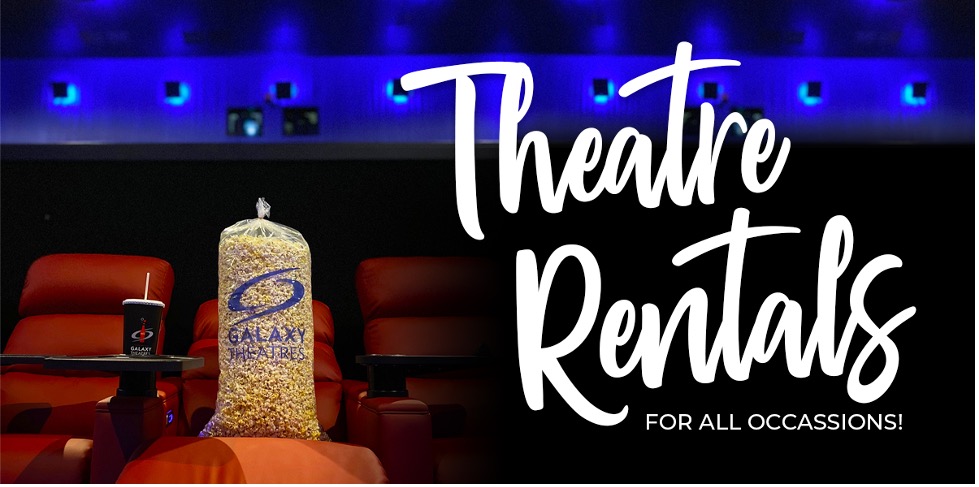 Fri, Sep 2 5 THINGS TO DO WITH A PRIVATE THEATRE RENTAL
With a private theatre rental at Galaxy Theatres, you're officially a VIP. What's playing? Your pick! Showtime? Up to you. Solo seating or a group of pals? Whatever your heart desires. It's time to screen your choice of movie and experience the cinema in a brand-new way. Celebrate birthdays, anniversaries, team bonding, or holiday parties.
CURRENT FILMS
Whether you'd like to enjoy the entire auditorium with a special someone or filled to the max, the cinematic experience truly can't be missed. Catch a current box office hit in your own private auditorium with all your friends. We love seeing businesses treat their team members to a mid-day movie together, so everyone has something timely to talk about at the water cooler. We can coordinate a Seminar, a Corporate Meeting, Fundraisers, Sports Groups, Chamber Meetings, reach out and let us know what you're thinking.
Please note these types of private screenings will not be scheduled during busy opening weekends.
THROWBACK FILMS
While Galaxy participates in the Flashback Cinema Program, maybe we missed your favorite classic, and it deserves to be seen on the big screen. Take the kids to witness any digitally remastered title that can be played on our Blu-Ray, plug-and-play state of the art technology. Or gather some fellow film-lovers and reserve a screen to watch one of the greats followed by an in-depth discussion, book club style.
YOUR FILMS
Roll out the red-carpet treatment, it's time to throw your very own premiere event with a private screening at Galaxy! Do you like to make short films? Perhaps you have some drone vacation footage you'd like to see on the big screen? Found a box of home videos? Invite loved ones to dress up and attend the debut of your footage in theatres! We offer stadium seating for the perfect view, and concessions or outside catering is available. We personally think this set up would make for a fun engagement or pregnancy announcement to all your guests!
VIDEO GAMES
Grab your consoles and controllers, we feel a tournament coming on! That's right, you can play your favorite video games on our screens while relaxing in our comfy seats. Talking to your friends online is a thing of the past when you have a room big enough to fit them all!
KARAOKE
Belt it out! One theatre rental guest had this to say about their superior singalong experience:
"I rented out a theatre so that my family and a few friends could do karaoke. We had so much fun. The staff were amazing and very accommodating. Just an amazing experience for everyone. I posted video to my Instagram page and many who couldn't make it are already asking if I will be doing it again. Book your events with them!"
In the end it's all about getting creative! Be free to sing, game, laugh and talk with your choice of guests in an entertainment space all your own. Find the email below for your GALAXY THEATRE and reach out to us today to start the booking process and remember to share your photos with us on social media!

Email:


AUSTIN:  infoaustin@galaxytheatres.com
BOULEVARD:  infoboulevardmall@galaxytheatres.com
CANNERY:  infocannery@galaxytheatres.com
CARSON CITY:  infocarsoncity@galaxytheatres.com
GIG HARBOR:  infogigharbor@galaxytheatres.com
GRANDSCAPE:  infograndscape@galaxytheatres.com
GREEN VALLEY:  infogreenvalley@galaxytheatres.com
LEGENDS:  infolegends@galaxytheatres.com
MISSION GROVE:  infomissiongrove@galaxytheatres.com
MONROE:  infomonroe@galaxytheatres.com
PORTERVILLE:  infoporterville@galaxytheatres.com
RIVERBANK:  inforiverbank@galaxytheatres.com
TUCSON:  infotucson@galaxytheatres.com

TULARE:  infotulare@galaxytheatres.com
VICTORIAN:  infovictorian@galaxytheatres.com